Do you like the classic walnut potica, but at the same time you are a big fan of moist cakes? Then Meta Kocjančič's cake will impress you.
The competition for the big winner of the "Best Slovenian Pastry" competition is still ongoing and one of the three finalists, whose cake you can already buy from Mercator and thus have a say in, is the winner Meta Kocjancic from Secovlje. The likeable Primorka, who describes herself as one of the few original Istrians, a descendant of Savrinka, set about preparing a potica cake. In other words, she has used the ingredients of traditional Slovenian potica for a delicious cake with a modern look that is also extremely attractive to look at.
And how did Meta make a cake out of the traditional Slovenian walnut potica? She made jelly from raisins, soaked walnuts in coffee, baked a biscuit, poured cream over everything and froze. The cake is tender and soft and moist for a few days. Will she be able to take the sweet victory with her? The decision is yours.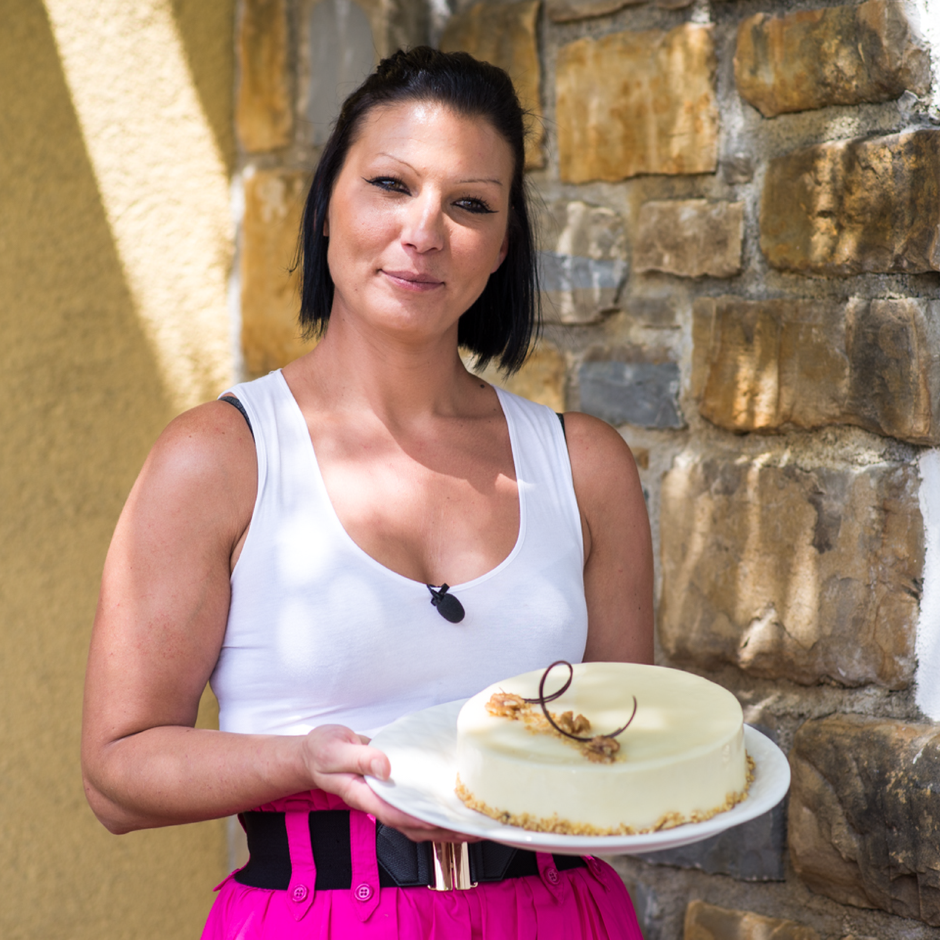 M NEIGHBORHOOD


At M SOSESKA you can watch the show Naj slovensko pecivo, where eight contestants compete for the title of big winner. A specialist jury consisting of the Slovenian ethnologist Prof. DR.
Janez Bogataj
the queen of baking with yeast
Polona Klančnik
and a representative from Mercator
Veljko Tatic
, has already selected three finalists whose cakes Mercator puts on its shelves. The finalists are: Meta Kocjančič with potica cake,
Nina Bavdek
with vegan poetry
Urška Jerman
with Prekmurje inspiration.
And now it's your turn until December 16th, by purchasing one of the three goodies that made it to the grand finale, you decide the winner, who will receive €2,000 as a prize. By buying the winning cake, Mercator ensures his sweet sin will never be forgotten.
Judge Polona Klančnik: "It's a brave step"
"It's a very, very bold move. That someone dares turn Potica, the Slovenian queen, into a cake…" Judge Polona Klančnik, the queen of yeast baking, commented on Meta's Potica cake. "Well, don't think I'm not thrilled. I'm excited, but I'm waiting for the flavors because if they work like Potica, then we know what we're going to have on the tables for the holidays."
The idea of ​​making a cake out of the Slovenian dessert queen came to her before Nona's 85th birthday. Potica is a must-have for any celebration and as she was thinking about what kind of cake Noni could make, the idea for the Potica cake came up. Its main ingredients are the same as the classic walnut potica (i.e. raisins, walnuts, rum), but at the same time the potica cake is much juicier and keeps a little longer in the fridge than potica, which we know is recommended to eat will dry out as soon as possible.
You can watch the video where Meta detailed the process of making this delicious cake and also revealed the recipe HERE.




M NEIGHBORHOOD


Baking is her great love and her profession
Meta is a master confectioner and can no longer imagine life without baking. If she didn't bake, she would be lost because all she does in life is bake and cook, she says. Initially, she started baking as a hobby, which later became her profession. Today she takes care of sweet delicacies in the well-known hotel chain on the Slovenian coast, of which she is very proud.
Meta inherited her love of baking from her grandmother, known to many along the coast for her delicious sweets. Together with her grandmother, Meta baked her first cake at the tender age of eight – a classic tart with fruit. Meta's grandmother also reveals that Meta wasn't too keen on helping her bake at first, but she was always happy to secretly steal the creams her grandmother used to make for her desserts.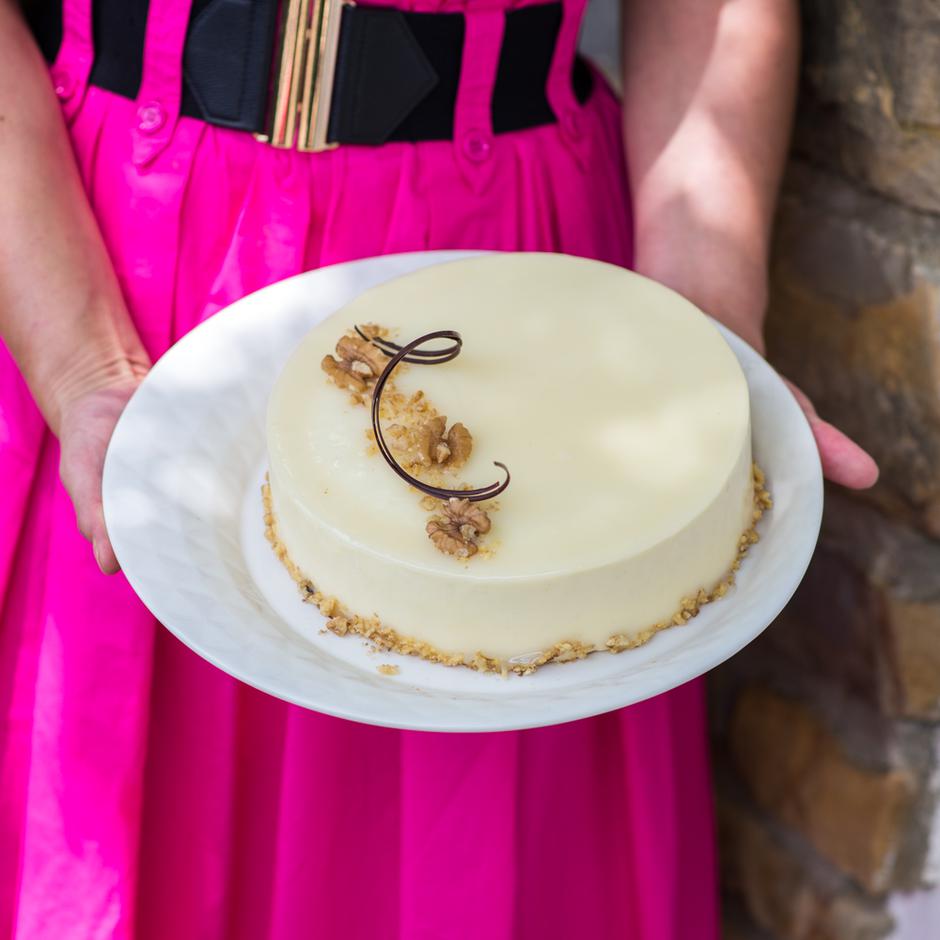 M NEIGHBORHOOD


Potica is by far our most traditional dessert
Potica is certainly our most typical, traditional pastry, which is now also known outside of Slovenia. Its oldest name comes from the time Primoz Trubar, which he called "povitica" in his works of 1575 and 1577. The oldest recipe for it was published in 1689 in the sixth and seventh books The Glory of the Duchy of Carniola. Janez Vajkard Valvasor, who also wrote down the difference between the terms pogača, kolač and presnec. The unified name Potica was introduced only in the 18th century, and the term Slovene Potica was used in the second half of the 19th century.
In the past, Slovenian poticas were made with fillings made from dried fruits, such as slices of apple or pear, and were additionally sweetened with honey. Instead of fruit, walnuts, hazelnuts, tarragon, and pumpkin seeds were also used as fillings, and raisins were later used for potica fillings. Nowadays, in addition to sweet poticas with various fillings (such as poppy seeds, hazelnuts, walnuts, chocolate, coconut, etc.), we also know salty versions of poticas – ocvirkovka, špehovka and others.
On M SOSESKA you can watch the best Slovenian pastry shows. At the same time, remember that you can do anything You have until December 16th to decide the winner by purchasing one of the three goodies that made it into the grand finalethat will be for the price received 2,000 euros. By buying the winning cake, Mercator ensures that he will never be forgotten.