The heady combination of walnuts, apples and cinnamon will not leave you indifferent this pre-Christmas period. This time we combined the limited three ingredients with cottage cheese and made a delicious holiday-inspired cake.
We have a festive December ahead of us, which is considered one of the gourmet months, so in cooperation with Eurospin we have prepared a project for you: Month of Festive Meals. Follow the easy, affordable and delicious recipes to indulge in HERE.
Just three layers: walnut biscuit, apple pie, and cottage cheese
Preparing for this festive sweet sin, which will definitely not leave you indifferent, is a little time-consuming, but not too demanding. It just takes a little more patience and time because when you add the cream, you have to wait extra time for the previous layer to set. But when you taste this heavenly cake, perfect for the December season, you'll see that it's worth every minute of your time and effort.
Month of the festive meal


Ingredients for a cake with a diameter of approx. 22 cm
Biscuit:
60 grams of flour
60 g ground walnuts
120 grams of sugar
3 eggs
0.6 dl country milk
0.6 dl oil
half a bag of baking powder
spoon of rum
Month of the festive meal


Apple-cream:
3 large, sweet apples
a bag of vanilla sugar (and extra sugar if needed – if you chose less sweet apples)
Cinnamon Don Jerez to taste
Clove Don Jerez to taste
Cornstarch for thickening
cottage cheese cream:
500 grams of puree
2 dl dessert cream Fior di Natura
100 g powdered sugar
Cornstarch for thickening
a few drops of lemon juice
preparation
First we will start preparing the biscuit, which we want to be juicy and light, so we must first separate the yolks from the whites. Beat the egg whites with half of the sugar until stiff, in the other bowl, beat the yolks with the remaining half of the sugar until fluffy. Then add milk, oil, a spoonful of rum to the sweet egg yolk mixture and mix well. Then comes the addition of the so-called dry ingredients – flour, to which we have previously added baking powder, pass the egg mixture through a sieve and carefully mix everything into a uniform mass, then add the ground walnuts to the biscuit mass. At the very end, carefully add the egg whites – if you used an electric mixer to combine all of the previous ingredients, now gently mix the egg whites with a spatula.
The biscuit mass is then poured into a cake tin and baked in an oven preheated to 180 degrees for 30 to 40 minutes (depending on the oven or program used). It is best to keep a constant eye on the cookie as it bakes and use a toothpick to check towards the end of the baking process whether it is sufficiently baked or not.
Once the cookie is baked, moisten it with a few tablespoons of milk to which we added a few drops of rum. Then let it cool down a bit.
Month of the festive meal


In the meantime, let's start preparing apple cream or jelly. Peel the apples and cut into small pieces, pour water over them, season with sugar, cloves and cinnamon and simmer until soft. Remove cloves (and cinnamon sticks too, if you prefer to use sticks instead of ground cinnamon) and save the braised apples with a hand blender along with some of the liquid. But be careful, the liquid from the baked apple should not be too much, otherwise the cream may not bind properly. This is followed by the addition of cornstarch according to package directions, which thickens the cream.
Once the biscuit has cooled, pour the apple jelly over it and place the cake in the fridge until the apple layer has set nicely. In the meantime, let's start with the last layer of cake – cottage cheese cream. Prepare it by mixing powdered sugar into the cottage cheese (easiest with an electric mixer), adding a few drops of fresh lemon juice; then we add whipped sweet cream or, in our case, a sweetened preparation based on non-hydrogenated vegetable fat from Eurospin, whipped in the same way as ordinary sweet cream. We will also add some cornstarch to the curd cream to thicken it if we find it necessary or if we want to further strengthen the curd cream. When the apple jelly layer has hardened, top with the cottage cheese cream and return the cake to the fridge while the last layer of cottage cheese has set well.
In the end, the cake only needs to be decorated. It gets sweetest when you add some walnuts and apple crumbs. Have a good run!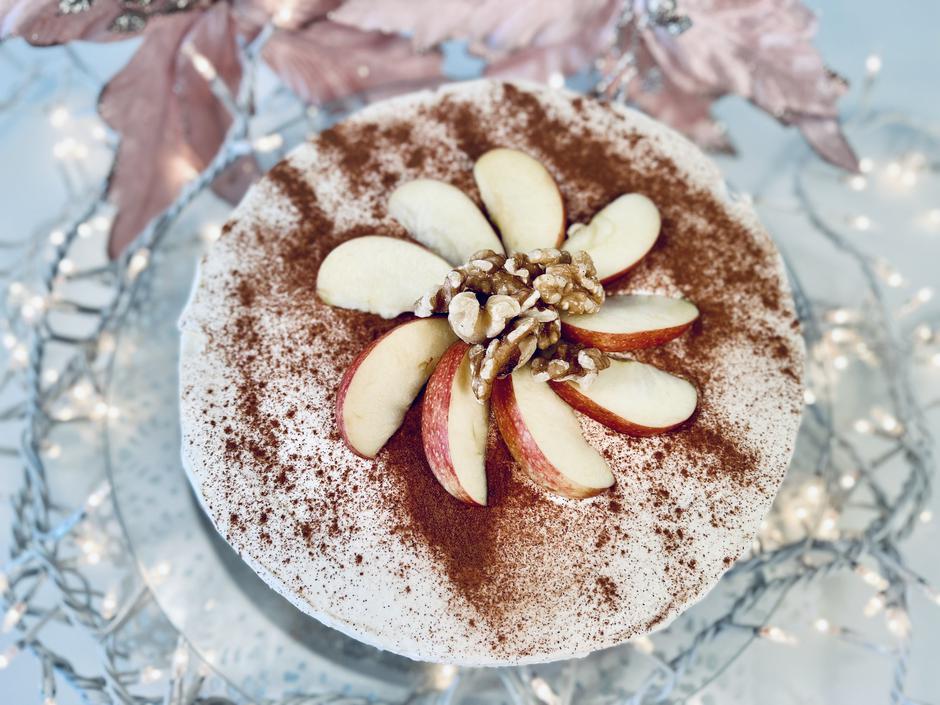 Month of the festive meal


Useful tips
If you want the cake taller or the individual cake layers thicker, simply reduce the cake ring to a smaller base (if you have a flexible cake ring). Or use multiple ingredients to prepare individual layers. But make sure that you calculate the addition of the ingredients correctly – especially when preparing a biscuit, where the exact amount of ingredients is crucial for the success of the baking of the biscuit layer. If you go for creams and cook too many layers of apples or cottage cheese cream, just don't use it on the cake and use it elsewhere. For example as a filling for pancakes or as a creamy addition to muffins.
A holiday cake will cost you so much….
This delicious holiday cake will only cost you 5.50 euros and you must bake it again on other occasions because it is downright divine. At Eurospin you can buy many ingredients at very cheap prices. For example, 1000 g white wheat flour, which you only need a little to prepare a cake, costs only 47 cents. For 1000 g of crystal sugar you pay 79 cents at Eurospin, for a pack of 10 eggs 1.25 euros and for baking a biscuit for a cake you only spend three. And also the other ingredients you need for this recipe can be found in the Eurospin stores at affordable prices. So don't hesitate and hurry up to shop everything you need for delicious holiday meals now!
You can get affordable Eurospin products even cheaper by regularly checking the catalogs with discounts. The current catalog can be found HERE.