Do you already smell like cookies? There's nothing better than starting this magical month with colorful gingerbread cookies.



Cookies that mark the Christmas season.


Miklavž, who is now seriously preparing to visit our places, is always an inspiration for us when deciding what to bake in these days that herald a festive December. He started days ago when the cold hit and now he's let us do the work. That's why we're now sharing a top gingerbread recipe with you that always works.
The scent of the honey dough and the spices that go with it takes us time and time again to a fairytale land, where the scent of fresh biscuits, dried fruit, mulled wine, hot chocolate and spruce branches. When it's cold and foggy outside and it gets dark quickly, we have to conjure up a pleasant atmosphere at least in the kitchen at home. Baking cookies is a great way to create with children, and beautifully wrapped gingerbread cookies are always a welcome gift for both children and adults.



Over the holidays we can treat ourselves to delicious gingerbread without a guilty conscience.
Photo: Pixabay


According to an old tradition, honey cakes are baked all over Slovenia during the December holidays. The Perger family from Slovenj Gradec has been delighting us with their hearts since 1757. Honey dough or lect, made by lectars as the forerunners of confectioners, is part of Slovenian cultural heritage. It dates back to a time when sugar wasn't available everywhere. Even today, famous Lekherzen are made from it, which are a unique souvenir from our towns. Škofja Loka and Dražgoš bread are also similar, except they are decorated with small ornaments made of dough instead of colored decorations.
When we say gingerbread, the first thing that comes to mind is gingerbread men. When we look at their smiling faces we find their goodwill. Honey dough is so easy to shape that it's worth making in bulk, as it's a treat to cut out all kinds of shapes with models and jars. Plus, they last a long time in a tightly sealed container.
Quick tip: If they get too hard, put a slice of apple in the box to soften the cookies a bit.
This year's gingerbread is "painted" all over with white egg white glaze. We used colorful marzipan and melted dark chocolate for decoration. However, we can only stick to protein ice cream, which is what we also call white glaze. No matter how we decorate them, they will steal our hearts.
Quick tip: Choosing brown sugar makes Lebkuchen brown even more beautifully.
Colorful gingerbread
Ingredients:
500g flour
150g softened butter
150 g AGRAGOLD powdered sugar
150 g chestnut honey
2 eggs
1 tablespoon baking powder
Spices for gingerbread
For the glaze:
protein
20 days AGRAGOLD powdered sugar
colored marzipan
Preparation:
In a bowl, mix the honey and softened butter. Once the honey has crystallized, it is liquefied by steam. Add AGRAGOLD powdered sugar and mix well. We add eggs. Shake the baking soda and a bag of gingerbread spice into the mixture and gradually add the flour. The mass is quite dry, so soon we will have to start mixing it with our hands. Once everything is well mixed, wrap in foil and place in the fridge for an hour.
Sprinkle flour over the counter and roll out the dough to about 1 cm thick. We design cookies. We can also make balls, but they need to bake a minute longer because they are thicker.
Bake at 170 degrees for 10 minutes.
The glaze consists of egg whites and powdered sugar. Beat the egg whites into the egg white mixture with a fork, add the sugar until the glaze is quite thick. You can use it to fill a plastic bag and paint cookies, or you can dip it in the icing and place it on the wire rack to drain the excess icing. Continue decorating after drying.
Glue the marzipan decoration to the biscuits with a drop of melted chocolate. We design deer, a chain with lights (we used colored candies), snowmen, bodice leaves.
Vegan version of gingerbread



Gingerbread can also be made in a vegan version.
Photo: Pixabay


For the vegan version of the recipe, replace the butter with coconut oil, add chia seeds instead of eggs and use chickpea water (liquid left over from cooking chickpeas or liquid from a can) instead of egg white. When we don't consume honey, we use maple syrup. For the 1 pound flour dough, take 1 tablespoon of chia seeds and soak them in 3 tablespoons of water for 15 minutes to make them gooey. Everything else is as in the recipe above.
Cookies as a nice gift



Photo: Getty Images


Homemade gifts are becoming increasingly important as they show our loved ones how much they mean to us that we have baked and decorated something delicious for them. Such a gift is worth more than something we buy quickly in the store. We enable children to decorate biscuits in their own way and thus give them their own personal touch. The most beautiful sweet gifts come into their own in transparent packaging – they can be decorative glasses or wrapped in cellophane and decorated with a spruce branch and a cinnamon stick.
build honey house



Honey house amid festive decorations.
Photo: Pixabay


Even Janko and Metka found themselves in a house made of gingerbread and candy. Today, gingerbread houses can be a nice gift or a festive table decoration. With these constructions we can really breathe while decorating.
First we make honey dough, of course more to match. Rye flour can also be used. The dough can also rest in the fridge overnight. We make stencils of individual walls for the house from cardboard and cut out the dough from them. Bake individual parts of the house and glue them together with glaze. Do not glue each new piece until the previous joint has dried well. We also use the icing for snowing the roof and chimney and as a glue for various glitter, candies, pearls and chocolate sprinkles. The honey house really needs to be decorated richly.
It has to be cute for the holidays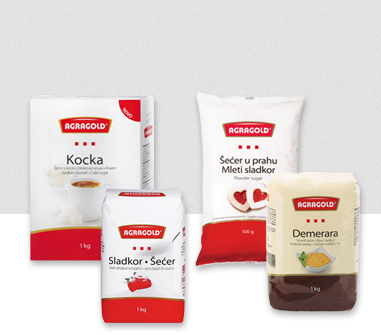 The holidays are a time when we can afford a little more creation with sugar. The smell of homemade cake is one of the most beautiful memories we carry with us, so don't hesitate to make a variety of cakes, cookies, cakes and pastries. Today we introduced you to baking gingerbread, and in the next post you will find a recipe for a really delicious Christmas cake.
Sugar used to be called white gold, today it is called AGRAGOLD.
AGRAGOLD offers various types of sugar that make designing in the kitchen a real pleasure. All the important moments in our lives are linked to sugar in one way or another.
Family birthdays, traditional holidays, anniversaries and other celebrations and everyday moments when we treat ourselves to a cup of coffee with sugar cubes – all these memories have one thing in common: sugar in its various forms.
AGRAGOLD white sugar has a very gentle grain size and therefore melts quickly when preparing a wide variety of desserts, guaranteeing you complete success.
AGRAGOLD icing sugar conjures up even sweeter moments thanks to its soft structure. Finely ground sugar crystals can be soluble and mix perfectly with batters, creams, glazes and other ingredients in the preparation of various desserts.
Try other festive delicacies created in collaboration with AGRAGOLD sugars:
tendencies
The hit of this year's holidays: the chocolate Christmas tree



Divisions:
6



tendencies
It couldn't be easier: a cream cut in a #recipe glass



Divisions:
22



tendencies
Christmas bread according to our grandmothers recipe



Divisions:
50



tendencies
Stimulated according to our grandmothers' recipe #video #recipe
tendencies
Make it smell like homemade #video #recipecookies
.