The vegan dessert of 31-year-old Nina Bavdek, who published her first vegan dessert cookbook this year, also competed for victory in Mercator's culinary competition Naj slovensko pecivo. The recipe for pumpkin seed, raspberry and chocolate cake entitled Vegan Poetry was created for the best Slovenian pastry.
At M SOSESKA you can watch the show Naj slovensko pecivo, where eight contestants compete for the title of big winner. Expert jury consisting of outstanding connoisseurs of Slovenian cuisine, pastries and traditional recipes
Polona Klančnik
with Prof. DR.
Janez Bogata
j together with a representative of Mercator
Veljko Tatic
, has already selected three finalists whose cakes Mercator puts on its shelves. The finalists are:
Meta Kocjančič with potica cake, Nina Bavdek with vegan poetry and Urška Jerman with Prekmurje inspiration.
And now you are on 16.12. with the purchase of one of the three delicacies that made it to the grand finale, decide on the big winner, who received 2,000 euros for the prize. By buying the winning cake, Mercator ensures that he will never be forgotten.
Stunning combination of sweet homemade raspberries and chocolate ganache on a light pumpkin seed cookie. This is a simple but delicious dessert presented in the fifth part of the Naj slovensko pecivo Sloveniji show Nina Bavdek from Kranj. It is true vegan poetry that does not leave indifferent even non-vegans.
You can watch a video of Nina's vegan dessert HERE!




M NEIGHBORHOOD


Convince mackerel with a vegan raspberry chocolate treat
The special thing about Nina's dessert, with which she takes part in the show Naj slovensko pecivo, is that it is suitable for vegans and also for allergy sufferers, which makes jury member Polona Klančnik, a master of baking with yeast, particularly happy: "I wouldn't call this cake vegan, but 'plant-based'. Not only for vegans, but also for anyone who has allergy problems."
The dessert consists of a light biscuit with pumpkin seeds, homemade raspberry jam with chia seeds and chocolate cream or ganache. It's easy to prepare because Nina's guiding principle when creating new recipes is that they must be simple enough for anyone to try, even those who aren't the best bakers. Another important aspect of its delicacies is that they are made from ingredients that are as healthy and seasonal as possible, while also being affordable for everyone. He says he can do amazing things with few and simple ingredients.
The only thing you have to pay attention to when preparing this vegan delicacy is to make the cookie as fluffy as possible. There's a simple trick, Nina tells us, which is to add baking soda and some apple cider vinegar to the basic ingredients. The combination of these makes the cookie fluffy, or fluffy as we say.
Nina, who studied tourism and is currently working as a waitress in one of the local pizzerias, dreams of one day having her own vegan pastry shop boutique, which she will of course start and bake herself. The first step towards realizing this dream is certainly the very first book on vegan desserts, which she published in March this year.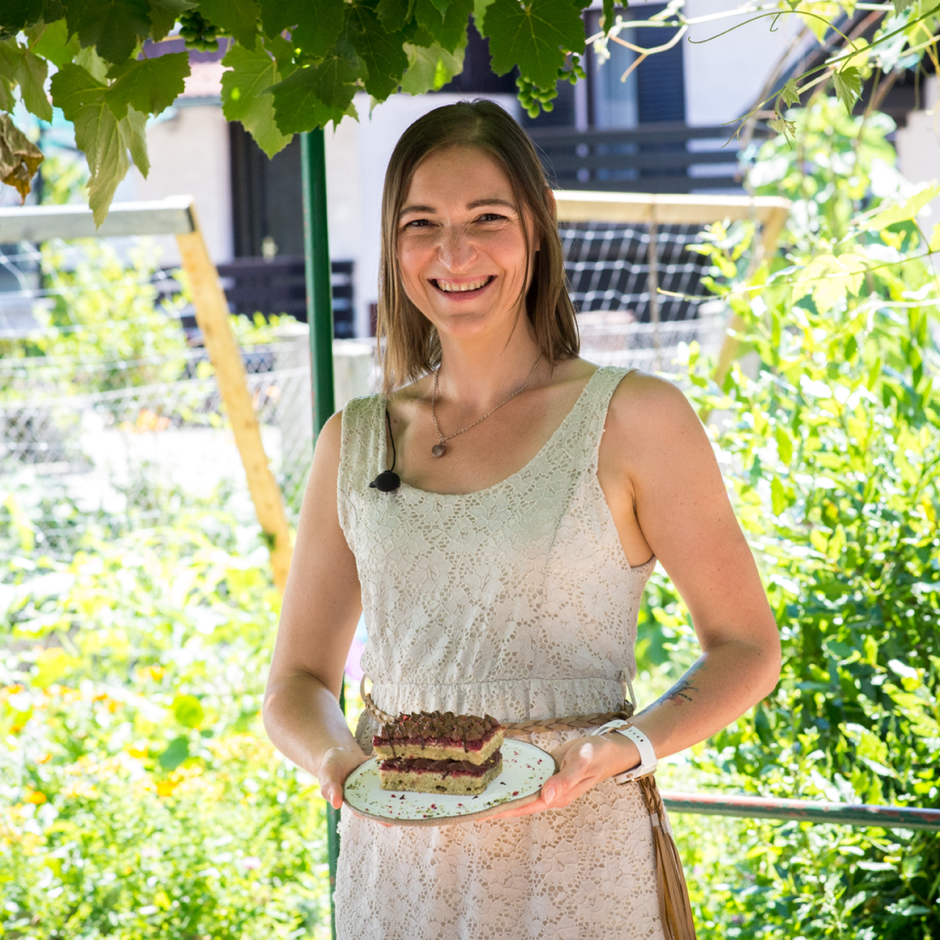 M NEIGHBORHOOD


She fell in love with baking as a child
Nina has been passionate about baking since she was seven years old when she started helping her mother bake pancakes, make tiramisu and cakes and later on bake muffins and other delicacies that she still treats her family and all her neighbors with .
"I first started making pancakes when I was about seven years old – my mum also taught me to flip them in the air. We baked together, she also taught me to separate the yolks and whites. I often helped her make tiramisu, in between cream I ate almost everything. Tiramisu is the most traditional and favorite among the whole family. She only confided this recipe to her aunt and friend and me." says Nina, who has not yet created a recipe for a vegan version of tiramisu.