If there is cottage cheese, walnuts and poppy seeds in the dessert, then it is clear that it is something juicy and strong. Breaking through the alternating layers of walnut and poppy seed quark filling, we encounter a pleasantly crunchy dough that gives the full and rich cream the necessary contrast.
Crunchy dough
250 g flour
100 grams of sugar
bag of baking powder
a bag of vanilla sugar
80 g cold butter cubes
1 egg
spoons of sour cream
filling
1 kg cottage cheese
300 grams of sour cream
5 eggs
200 g ground poppy seeds
200 grams of sugar
200 g ground walnuts
Peel 1 lemon
2 tablespoons starch
preparation
1. Shortcrust pastry: Put all the ingredients for the shortcrust pastry in a bowl, mix well with your fingers and press into a ball. Wrap the dough in cling film and place in the fridge for 2 hours.
2. Butter the perimeter of the cake pan, then pour in the flour and turn so that the flour sticks to the greased surface, shaking out the excess.
3. Place the parchment paper on the bottom of the baking sheet.
4. Take the dough out of the fridge and roll it out to a thickness of 5-7 mm. From it we cut a circle with a diameter of 26 cm. Place these on the bottom of the baking sheet.
5. Line the perimeter of the baking pan to a uniform height with the remaining batter and place in the fridge.
6. Filling: Preheat the oven to 170 degrees.
7. Mix sour cream, cottage cheese, eggs, sugar and lemon zest, add 2 tablespoons of starch. Stir again, then divide the mass into two equal parts.
8. Sprinkle one half with ground poppy seeds and the other half with ground walnuts.
9. In the center of the cooled dough, alternately pour the poppy seed-walnut mixture in the same place to make concentric circles.
10. Bake the cake at 170 degrees for 1 hour.
11. At the end of baking, turn off the oven and prepare the door. The cake should cool slowly to room temperature to avoid cracking.
12. Then put it in the fridge where it should wait at least 6 hours, preferably overnight.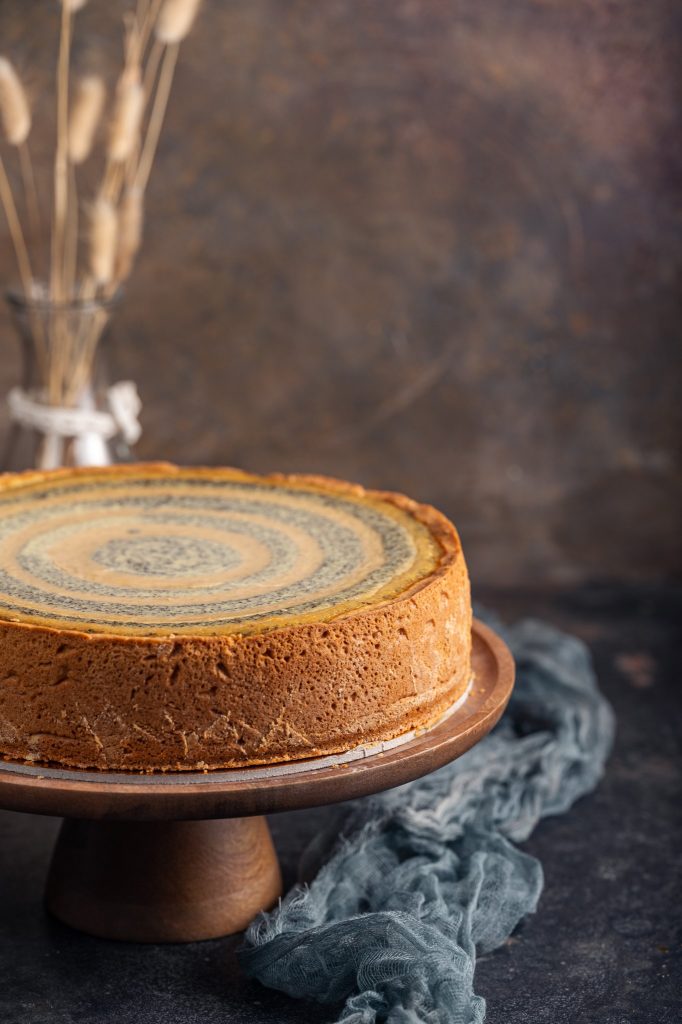 We also recommend: Scrambled eggs: a very simple idea for a whole new taste