There are never too many ideas for sweet treats. This time, Kaorilna has prepared a delicious tapestry surprise starring the legendary Oreo cookie.
---
Oreo biscuits take on a whole new sweet dimension. With the help of two new products – ground and shredded Oreo – we can conjure up excellent homemade desserts for every occasion.
Check out an easy three layer Oreo cake recipe. She will most likely be the main star of your next birthday parties:
Ingredients:
2 cups ground Oreo cookies
10 days melted butter
2 packs of chocolate pudding
2 packs of vanilla pudding
250 ml whipped cream
1 cup crushed Oreo cookies
Preparation:
Line a 10-inch model with parchment paper or brush well with melted butter. Place the ground biscuits in a bowl and pour over them, mixing well with the melted butter. Shake the bottom of the model and press them firmly against the ground.
Cook the pudding according to the instructions in the bag, using only one deciliter fewer milk to make it harder and we will cut pieces easier. First cook the chocolate pudding and pour it over the ground biscuits. Cook the vanilla pudding and pour it nicely over the chocolate pudding.



Photo: Jan Lucanovic


Let cool down. During this time, whip up the sweet cream, finally add the ground biscuits and then cover our folder nicely. Scatter crumbled biscuits on top and refrigerate, preferably in the fridge for at least 4 hours or overnight.
We can also take a rectangular model that we have on hand.
Oreo Cookies – for the cutest party
Any homemade dessert can take on a new flavor dimension – enrich and liven it up with the help of two new pastry gadgets: crushed and ground Oreo cookies.
Oreo crumbs (crushed) is loaded with crushed pieces of Oreo cookies to spice up any of your desserts.
Oreo powder (ground) are Oreo cookies, ground to perfection and turned into a delicious powder – an irreplaceable ingredient for making cakes and pastries.
Both products are representative of the unique taste of Oreo that has a special place in your heart.
You can use them to spice up many desserts and also indulge in a little more confectionery experimentation. Your next sweet treat for your favorite holiday will no doubt be a hit.
You will never run out of ideas again to prepare dishes for your birthday parties. And if the three-layer Oreo cake can be the highlight of the celebration, the Oreo cookies can be the common thread of the whole party. Oreo drinks, roulades, tarts, cakes and even pancakes!
We have prepared an outrageously good chocolate pancake recipe for you – because we know that good homemade pancakes are always a good basis for a sweet child (and adult) smile.
Pancakes with crushed Oreo cookies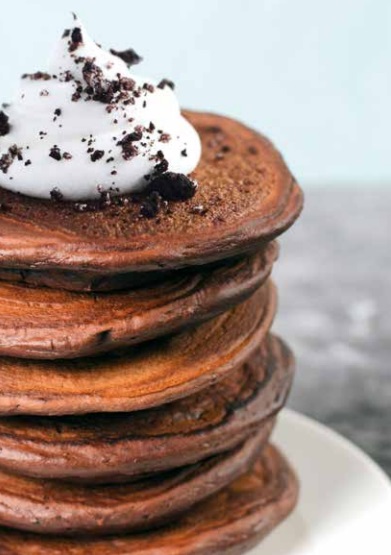 Ingredients (for 20 thick American pancakes):
4 eggs
550 grams of flour
1 baking powder
spoon of sugar
pinch of salt
600 ml milk
butter
100 g crushed Oreo biscuits
Preparation:
Stir the baking powder into the flour. Beat the eggs and milk until foamy and add the flour with the baking powder. Stir in the salt and sweetener and the crushed Oreo cookies. Stir well to get a thick batter (thicker than regular pancakes).
Meanwhile, heat a large skillet over medium-high heat and brush with butter. Bake the pancakes on both sides.
You can top them up with whipped cream, ice cream, sweet cream, and crushed or ground-up Oreo cookies.
If you're looking to spice up a kids' party with pancakes, you can let your toddler "design" the decorations with different toppings, candy, and of course, Oreo cookies.
tendencies
Dessert writ large: apple roulade with walnuts and Oreo cookies



Divisions:
fifteen



.