Recently, the media in the Balkans and in our country has been full of records about the Croatian wedding of the year, maybe even decades, when the two Hana Hujic in Petar Graso. One of the witnesses was a cook Tomaz Kavcic (Gostilna pri Lojzetu, one Michelin star). Since we in our editorial team are known for being mainly interested in what happens on the plate, we were only interested in one thing: what kind of wedding cake did chef Kavčič prepare?
"It was one of the gifts, but we prepared it in cooperation with the Grašo ACI Marina Split restaurant, of which Petar Grašo is a co-owner," explained Kavčič in the introduction.
He added that he was also involved in designing the wedding menu as he prepared two dishes that were served to eighty wedding guests at the celebration.
The cake you saw wasn't real
"A lot has been written about her. The most interesting thing is that one of my chefs took behind the scenes photos with the newlyweds and the cake. The photo was picked up by almost all media because they thought it was the right version. In fact, there was a leftover cake in this photo that we cut in the background. At weddings and other events, we always make sure we have a reserve – for rehearsals, you could say," smiles Kavčič.
As he explains, while looking at a simple, white, rectangular, and single-tiered dessert, comments began to drop saying that this might be a bit simple for such an important event, but then again, that's exactly what many people like.
When he tells us what kind of cake he made, we remember that we came across it years ago when Tomaž was a guest in the house of the fragrant Traminer, where the Steyer wine family was preparing a culinary event with house wines. Even then, the dessert was simple, white, rectangular, and the taste was refreshing and pleasant.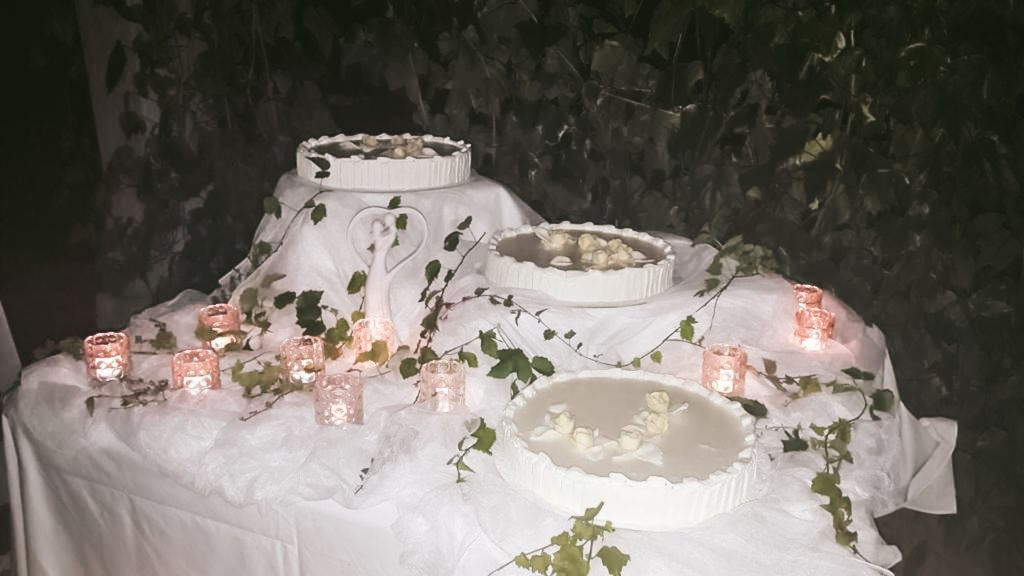 Ice base, Japanese seaweed
"This is my cake, which is in high demand and has already become our trademark. We have been preparing it for weddings for more than ten years and it is made on the basis of ice. There is no cream in the recipe, but milk, chocolate and a thin and crunchy biscuit, "explains the interlocutor.
He adds that it is always prepared the day before: "Fifteen hours it has to be chilled to -18 degrees Celsius, and before serving it has to be at 3 or 4 degrees Celsius for at least five hours – it's the same temperature when it's served." is served on plates. It's refreshing and light."
Then chef Kavčič explains that he uses something else to prepare his famous cake – Japanese seaweed, which is colourless, odorless and tasteless, but ensures that it stays firm, in other words: that it doesn't spread or melt .
Another interesting point: "The cookie at the bottom of the cake is gluten-free. We don't add flour, but we make it so that it's very crunchy.
Having many years of experience in the hospitality industry, one of our top chefs says: "I always hear that a wedding is busy and good too, so it's important that we serve a refreshing dessert at the end. It's also important, as I said, that we have a backup cake in the background." This time, chef Kavčič had 80 wedding guests in mind, which in practice meant he was preparing a cake for 120 people.
Wine
Well, besides the cake, something Slovenian was mentioned at the lavish wedding, wine. "Klet Brda sent the newlyweds a special Rebula filling," explains Kavčič about the bottle, on which was written in gold next to the 2020 wine year: "Good luck, good luck, love each other forever!"
At the wedding, guests were served Sekt Zemono (Pinot Noir), and there was also a gin monologue, signed by chef Tomaž Kavčič and created in Fructal.
Maybe this: singer Petar Grašo and chef Tomaž Kavčič recently introduced extra virgin olive oil. The black flacon, which adorns an olive next to the names of the two friends, extended by a note, is the work of the designer Kerina's eyes by the advertising agency Futura. Last year, the bottles won the Red Dot International Design Award in the Brands & Communication Design category.
We also recommend: Breaded donut slices: nobody wants freshness anymore
Photo: private archive of Tomaž Kavčič